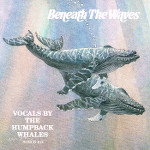 US$ 6.99
Beneath the Waves
What the humpback whales are saying with their very beautiful lyrical sounds is still a mystery to us. Their voices have inspired composers ever since recordings have been made available. A platinum award winner, this album puts you right in the middle of a pod of humpback whales.
Total playing time: 60:44
Free ring tone from this album included with your purchase.
Click to listen to a preview of each track.
---
To verify compatibility of our files with your player or phone, please check out the testfile.
Click here for more information on ordering.