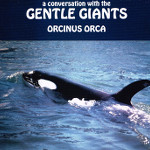 US$ 6.99
Gentle Giants
Whale voices have inspired composers ever since recordings have been made available. Some of their language is now starting to be understood by experts in the field, but even without understanding a word, listening to their voices is inspiring for the beauty of melody and intricacy of rhythm.
We added discreet music to blend in with the orca's own voices without overpowering them.
Total playing time: 49:10
Free ring tone from this album included with your purchase.
Click to listen to a preview of each track.
---
To verify compatibility of our files with your player or phone, please check out the testfile.
Click here for more information on ordering.