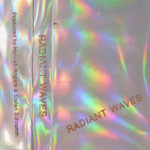 US$ 6.99
Radiant Waves
Radiant waves takes you on the kind of New Age trip that was popular in the 80's. It is included in our catalog for historical reasons, as it is the first released album by Stefan Schramm. No digital masters were affordable in those days and the tracks you hear had to be salvaged from a master compact cassette. So you may notice some tape hiss on this production.
Appropriately, the cover was hand cut from shiny foil, onto which we stamped the album title and credits. You can see the creases on the scan, where the foil was wrapped around the cassette inside its case. Very time consuming, even for a small production run.
Total playing time: 39:43
Free ring tone from this album included with your purchase.
Click to listen to a preview of each track.
---
To verify compatibility of our files with your player or phone, please check out the testfile.
Click here for more information on ordering.