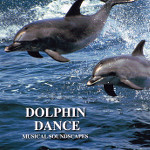 US$ 9.99
Dolphin Dance
Who hasn't fallen captive to the charms of dolphins, chattering and dancing on the crest of a wave? Their good-natured disposition and energetic playfulness has endeared them to millions. Imbued with intelligence and an abundance of curiosity, the dolphin is one of the most communicative of the great sea mammals. This friendship has led to life-saving encounters in open sea dramas as well as their recent introduction into therapy programs around the world.
The Musical Soundscapes series features original compositions of unusual variety, from solo piano to full orchestral textures, blended with the fascinating sounds of specific natural habitats. As in the platinum award winning releases, "Pacific Blue" and "Pacific Blue II", "Dolphin Dance" takes us out into the wide expanse of the Pacific Ocean, where dolphins and orcas play amidst a lush soundscape of imaginative music and ocean sounds.
Total playing time: 53:14
Free ring tone from this album included with your purchase.
Click to listen to a preview of each track.
---
To verify compatibility of our files with your player or phone, please check out the testfile.
Click here for more information on ordering.