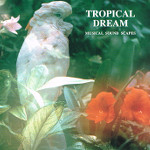 US$ 9.99
Tropical Dream
Hear the soothing sounds of tropical birds and flowing streams, sway to the beat of the tribal drums, and feel the warmth of the evening sun setting over the vast savannah. Blended with music of great variety, this album traverses many moods and colours, and draws you into a sensuous experience as diverse as the lush tropical rain forest. A gold award winner!
The Musical Soundscapes series features original compositions blended with the sounds of specific natural habitats. Be the theme a stroll along the beach or an encounter with the wildlife of exotic countries, each recording focuses on a unique environment and stimulates the listener's visual imagination.
Total playing time: 46:24
Free ring tone from this album included with your purchase.
Click to listen to a preview of each track.
---
To verify compatibility of our files with your player or phone, please check out the testfile.
Click here for more information on ordering.